Integrations - Deputy
Deputy is a cloud-based all-in-one employee scheduling, time & attendance, tasking, payroll, and communication platform. Create rosters in minutes and notify your staff via SMS, email, or the Deputy mobile app.

Connect Deputy with Lightspeed in just a few clicks. Staff can clock in and out on Lightspeed, and this automatically updates their Deputy timesheets. Sync your sales data from Lightspeed and gain greater insight into sales trends and labour metrics.
For help and assistance beyond this support guide, you must reach out directly to Deputy. Lightspeed Support is not able to assist you in these matters.
---
What's in this guide?
Add employees, sync timesheet, and import sales data
Sync / Edit your integration settings
---
Before you begin
Setting up your Lightspeed - Deputy Integration is fast and easy. But first, you would need:
---
Enable the Deputy Integration
1. From the Add-ons Page in Lightspeed Back Office, find the Deputy integration tile
2. Enable this Add-on by clicking on the Enable button
3. Once Deputy is enabled, select Settings - this will take you to your Deputy page if you're signed in or to the login page
4. Select Lightspeed Restaurant (O-series) from the integrations options in Deputy.


5. Click Connect add-on.
Note

- If you can NOT find Lightspeed from the list, select

Edit Services

on the upper right side and you will be taken to this page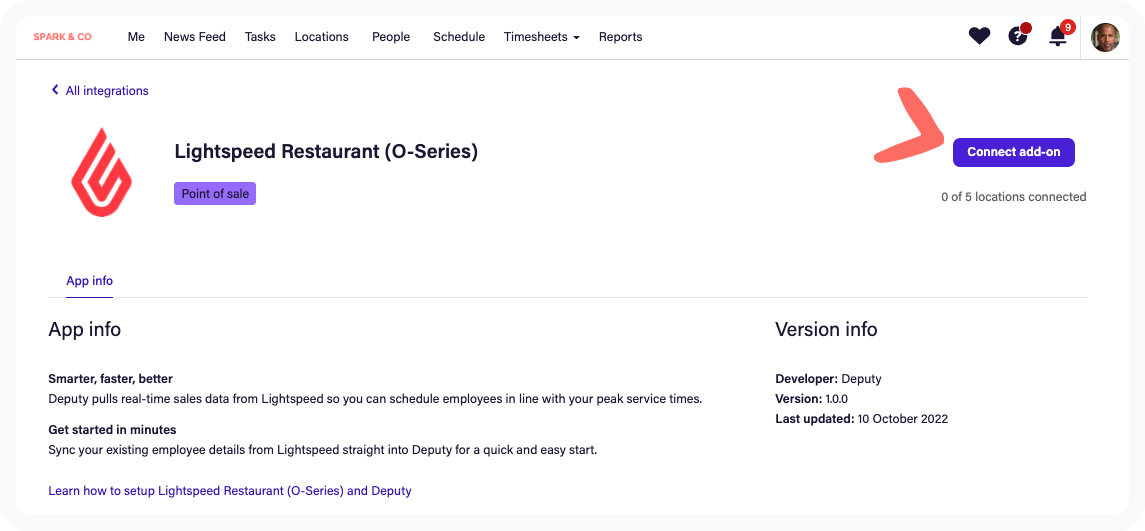 6. Click Connect for the Deputy Location you wish to connect to Lightspeed Restaurants.
7. Click Grant Access to give permission for Deputy to access your Lightspeed account.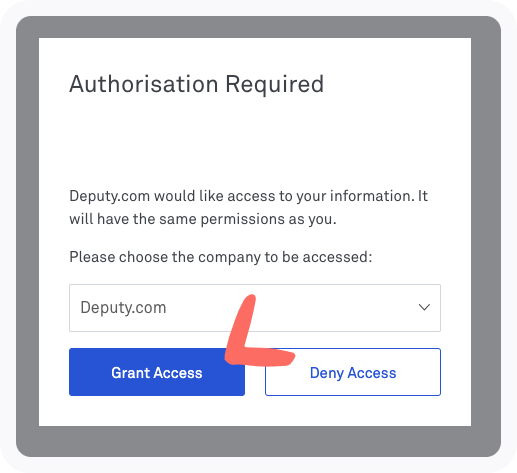 ---
Add employees, sync timesheet, and import sales data
8. After accomplishing the previous steps above, you will be taken to this list. Scroll down and look for Lightspeed - you will find three options;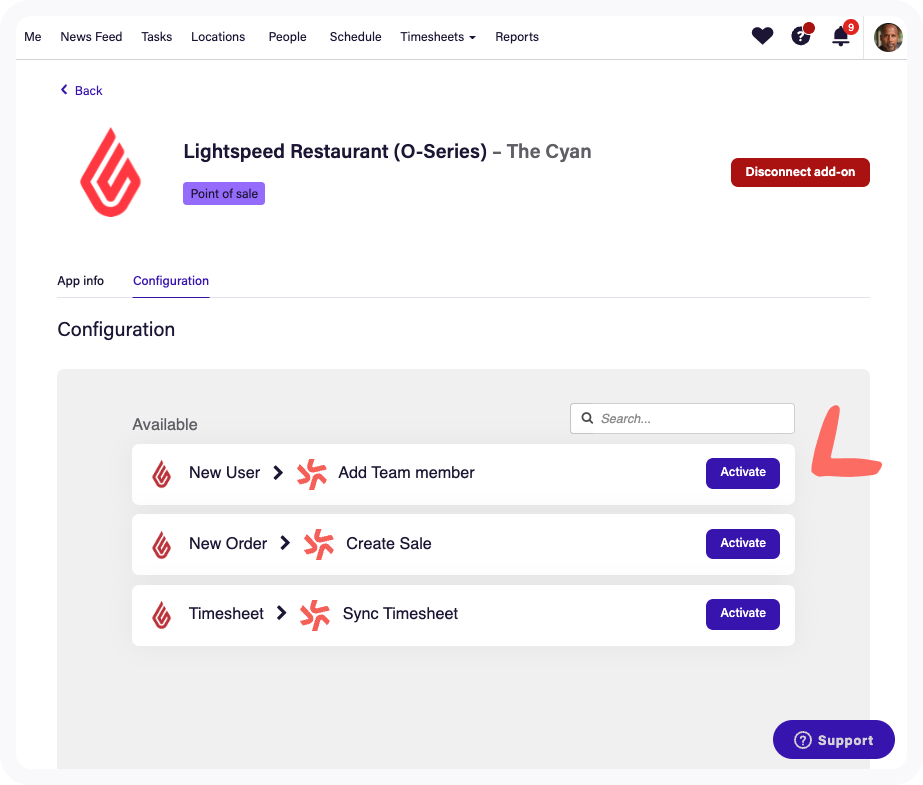 New User

- This will sync new (and existing) employee data from Lightspeed to Deputy - so that when an

employee is added as a user on Lightspeed (link),

this will reflect on Deputy.
Note -

After staff get the invite and create their account on Lightspeed, you would need to navigate back to the People page in Deputy and invite the new employee to join Deputy
New Order

- This will allow data from Lightspeed sales to be synced with Deputy's stats graph. This gives insight into scheduling, labour cost, and sales volume.

Timesheet

- This will sync the data from Lightspeed's Time & Attendance (which tracks employee clock-ins from Lightspeed) to Deputy - thereby populating Deputy's Timesheet.
9. Finetune the settings such as which of Lightspeed's sites, Deputy departments, etc. - then select Save

For New User: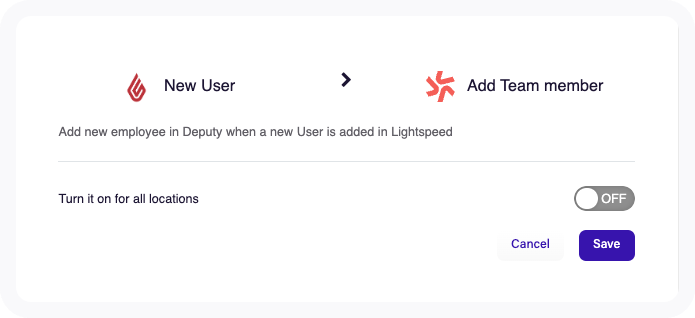 For New Order: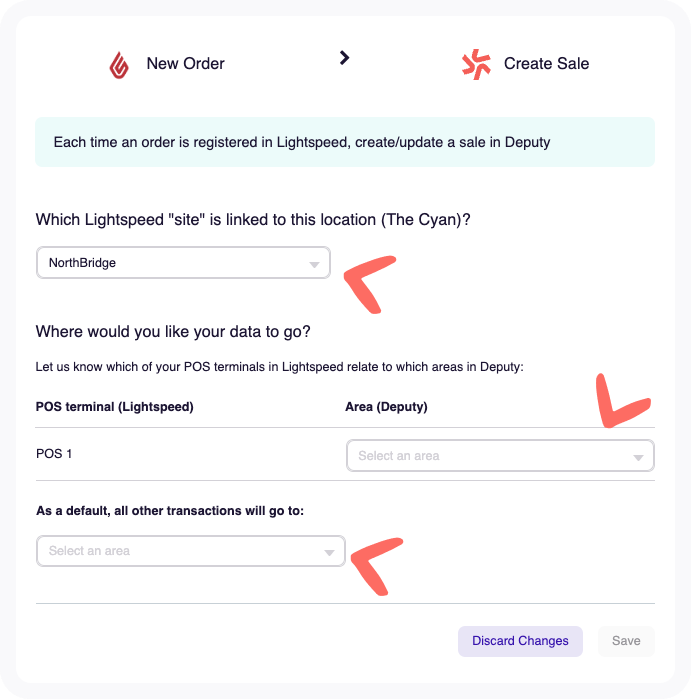 For Timesheet: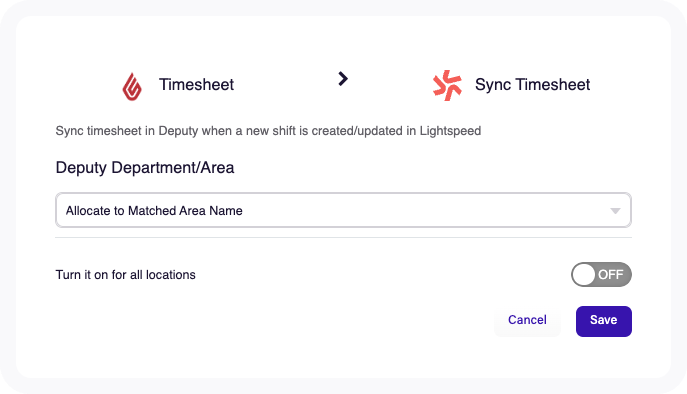 Well, that was easy!
---
Frequently Asked Questions
How much does it cost?

Integrating Lightspeed with your Deputy account comes at no additional fee. However, you would need an account with Deputy, which has its pricing
Can I test this integration on Deputy's free trial?

If you are still giving Deputy a try, you will be able to see how it would work with your Lightspeed by following the steps above. For this, you'd need a paid Lightspeed plan.
Can I plan the employee schedules from Lightspeed?

You would need to plot the schedule from Deputy. The role of Lightspeed is it captures employee clock-ins and sales volume. Sales volume can be used as a basis for effective scheduling or for analysing labour costs - while clock-ins will go straight into the Deputy timesheets.
---
What's my next step?
Have you added in your staff? When you add your staff to Lightspeed, they can use their PINs to clock in & out through the Lightspeed Time & Attendance add-on. Then if you integrate software like Deputy, you can import timesheets from Lightspeed. Too easy.